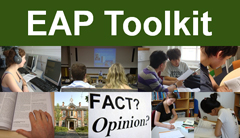 The EAP Toolkit
The EAP Toolkit
The EAP Toolkit is a comprehensive set of interactive learning resources for developing the language and study skills of international students and students whose first language is not English, for higher or further education. It comprises over 100 items (80+ hours of study) and can be used by students for independent study or by teachers in the classroom. It is available for licence by institutions and can be delivered over the web to students at a particular institution or through a Virtual Learning Environment (VLE) such as Blackboard or Moodle. It has been licensed since 2004 and underwent a second refreshment in 2011.
The EAP Toolkit consists of seven folders. Click on the folder title to see the full list of contents.
Try some content from the EAP Toolkit
Our Toolkits use HTML5 and therefore are accessible from PCs, laptops and tablets.
View summary of research into attitudes and uses by institutions, teachers and students:
EAP Toolkit poster (pdf, 1237kb).