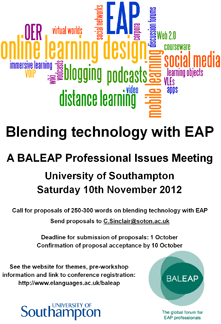 Blending technology with EAP: A BALEAP Professional Issues Meeting
Event: Blending technology with EAP
A BALEAP Professional Issues Meeting
Saturday 10th November 2012
Avenue Campus, University of Southampton
Download the poster for this event (pdf, 118kb).
Programme
The final programme of the day is available, along with the abstracts for the sessions.
Keynote presentation
Julie Watson's keynote presention is now available to download: An A to Z of technologies: A survey of tools and resources with potential uses for EAP.
Session presentations
Presentations from the sessions are being uploaded to the PIM reports section on the BALEAP website.
Conference themes
Topics included:
• EAP blended and/or distance learning
• Wikis and blogs in an EAP context
• Social media in teaching EAP
• EAP courseware design
• EAP tutoring online
• E-assessment for EAP
• Multimedia resources in EAP teaching and learning
• Open Educational Resources (OERs) for EAP
• Using VLEs in an EAP context
Twitter
The PIM hashtag was #baleappim12.
Pre-event workshop
A pre-event workshop was held on Friday 9th November: The LOC tool for EAP teachers: authoring your own online learning materials. This workshop was run by the Centre for Languages, Linguistics and Area Studies (LLAS) at the University of Southampton. If you missed this workshop but would like to take part in a similar workshop in the future, please keep an eye on the LLAS website, as they will be running more LOC training workshops in the future.