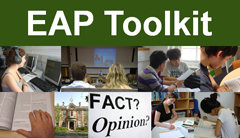 The EAP Toolkit
The EAP Toolkit (for licence by institutions*)
The EAP (English for Academic Purposes) Toolkit is a comprehensive set of interactive learning resources for developing the language and study skills of international students and students whose first language is not English, for higher or further education. It comprises over 100 items (80+ hours of study) and can be used by students for independent study or by teachers in the classroom. It is available for licence by institutions and can be delivered over the web to students at a particular institution or through a Virtual Learning Environment (VLE) such as Blackboard or Moodle. It has been licensed since 2004 and underwent a third refreshment in 2014.
*If you are a student and want to licence the resources from the EAP Toolkit, please see our Pay, Access and Learn site.
The EAP Toolkit consists of seven folders. Click on the folder title to see the full list of contents.
Try some content from the EAP Toolkit
Our Toolkits use HTML5 and therefore are accessible from PCs, laptops and tablets.
View summary of research into attitudes and uses by institutions, teachers and students:
EAP Toolkit poster (pdf, 1237kb).
What licensing institutions and teachers say:
"Excellent materials. The content has stood the test of time."
"Many of my students used the EAP Toolkit outside of class and I saw an improvement in their essays."
"It has been an invaluable resource for us over the years and long may it continue to be so."
"I think it is an excellent resource. It was so gratifying to find back-up and practice exercises for almost everything we covered during the course."
What students say:
"The topics and activities are good and useful. Everything is covered."
"The visual elements in activities like charts, graphs and the feedback parts were really practical and useful."
"It is a huge source that especially international students can profit a lot. I am happy to study with it."
"It is simple and organised very easy to follow. Categories are well-ordered so it's easy to find what I am looking for."