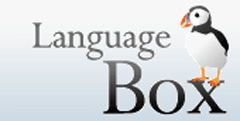 The LanguageBox
The LanguageBox: A Faroes Project Repository for Sharing Language Learning Resources in Distributed Social Spaces
The Faroes project was a JISC-funded Capital Project led by the Learning Societies Laboratory in ECS at the University of Southampton, and supported by pedagogic experts from the University of Portsmouth, and from eLanguages in Modern Languages and Linguistics and the LLAS Centre for Languages, Linguistics and Area Studies at the University of Southampton.
Its aim was to establish a lightweight repository for learners and teachers to store, manage and share their resources. It built on the CLARe repository (developed alongside the L2O Project), the experiences of the L2O, MURLLO and CLAReT projects, and continued to engage the active community of language teachers and learning technologists from those projects.
Through previous workshops with the language teachers' community of practice two important lessons had been noted. These were that:
the community was eager to share their resources and wanted a lightweight repository that they could incorporate into their everyday practice. They were also keen that the repository should have a user interface that followed the best practice principles of Web 2.0 sites (social, interlinked, evolving and flexible);
practitioners were enthusiastic about sharing learning assets: simple resources such as videos, audio files and presentations.
The simplicity of producing and re-using resources (for example, there is no overhead of content packaging, or complex metadata authoring) makes them particularly attractive to practitioners. Further engagement with the community helped the project to deliver a really usable repository that fulfils these requirements. In addition, it allowed us to begin to explore the difficult issues concerning authorship, provenance, authority and copyright in the context of a real system with real users.
Through engaging with the established community of language teachers in order to deploy a lightweight repository, the project team aimed to both foster cultural changes in resource sharing in the community, and also to create innovations in repository design based on Web 2.0 best practice.
Launch of LanguageBox
In October 2008, LanguageBox was launched. This provides a lightweight digital repository for language teachers to store, manage and share their resources. Web 2.0 features were added to LanguageBox including popularity ratings, most recently added resources, interlinked tagging and an innovative previewing facility. LanguageBox is now open for language teachers around the world who wish to join the user community and contribute their own resources.
HumBox
A similar project led by the LLAS Centre for Languages, Linguistics and Area Studies, and in which eLanguages was also involved, developed HumBox, a digital repository for teachers to store, showcase and share Humanities teaching resources as Open Educational Resources (OERs).