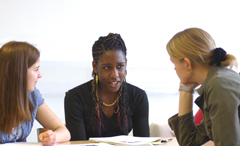 Planning research
Research & Development
The eLanguages team is involved in research and development in a number of areas related to elearning. Our main area of interest has been reusable learning objects (RLOs), which are the building blocks for many of our developments in online courses and resource sets (toolkits).
We have created two small sets of supplementary resources for the University of Southampton's Massive Open Online Courses (MOOCs). Recent projects have also focused on the development of discipline-specific online learning resources, particularly for Humanities and Law. Associated with these, eLanguages provided the pedagogic expertise for the creation of the LOC authoring tool for teachers, which reflects the pedagogic approach underpinning the development of our reusable learning objects.
Since 2007, eLanguages has been active in community-based projects exploring the creation of Open Educational Resources (OERs) and associated tools for their storage and retrieval. We have carried out research into the use of 3-dimensional virtual worlds such as Second Life for language learning and teaching. More recently, projects have also included online course development to explore intercultural awareness among students.