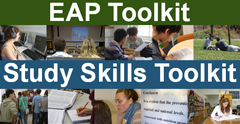 The EAP and Study Skills Toolkits
Toolkit licensing information
Licences are available for the English for Academic Purposes (EAP) Toolkit and the Study Skills Toolkit. The pricing strands for each toolkit are given below as guidance:
EAP Toolkit: £1600, £3200 or £6400 for 1 year, depending on size of student cohort
Study Skills Toolkit: £1600, £3200 or £6400 for 1 year, depending on size of student cohort
Both toolkits: From £2900 for 1 year, depending on size of student cohort
Toolkit licences for two-year or three-year periods are available at discounted rates.
All toolkit content can be branded with the licensing institution's logo at a small cost if required.
Toolkit licences are available for both UK and international institutions.
The Toolkits are accessible through a web-hosted version, or UK institutions may license the Toolkits for a minimum of 2 years for use in their virtual learning environment (e.g. Blackboard or Moodle).
The toolkits can alternatively be licensed for access from a computer workstation room. Prices start from £620 per year for up to 6 computers. Further details are available on request.
Design and pedagogy
Our toolkits contain 90-120 individual learning resources designed in the form of 'learning objects'. Our interactive learning objects are created using our own in-house authoring tool. They are designed in a particular style and based in an explicit pedagogy which involves an activity-led approach ('learning by doing'). They are designed to promote student reflection and are enhanced with feedback and other support mechanisms to aid student learning. They have been tried and tested with international students over a number of years. If you would like detailed information about their design, pedagogic approach and research conducted with student and teacher users, please see:
Watson, J. (2010). "A Case Study: Developing Learning Objects with an Explicit Learning Design." Electronic Journal of e-Learning, Volume 8 Issue 1, pp.41-50. Available online at http://www.ejel.org/volume8/issue1
Pay, Access and Learn (PAL)
Sections of both of our toolkits are now available to individual users through our Pay, Access and Learn site. This site allows individual students to access sets of resources from the toolkits for a given period. Licence fees per set are £5 for a 1-month licence or £10 for a 3-month licence.