The ARCHI21 Project
ARCHI21: Architectural and Design based Education and Practice through Content and Language Integrated Learning using Immersive Virtual Environments for 21st Century Skills
The eLanguages team in Modern Languages and Linguistics together with colleagues in the School of Education at the University of Southampton are part of a consortium of European universities, led by the French Ecole Nationale Supérieure d'Architecture Paris-Malaquais, conducting research into architectural design, education and practice through Content and Language Integrated Learning (CLIL) using the Second Life immersive virtual environment. The consortium received funding over two years under the EU LLP Transversal Programme, beginning in November 2010. Overarching much of the teaching, learning and research activity in the project is an Archi21 island in Second Life which can be visited in order to experience some of the outputs from the project more directly. Search for 'ARCHI21' or go directly to the SLURL.

Since January 2011, a number of courses integrating content (Architecture and Design) and one or more of the project's languages (English, French or Slovene) have been delivered. These have attempted to blend a range of new technologies and harness the potential of an immersive virtual environment for the teaching of architecture, design and languages. Classes have been conducted in Second Life and a team of Language Mediators (trainee language teachers) from the School of Education have been assisting in-world, and by offering support to students asynchronously using the affordances of the internet.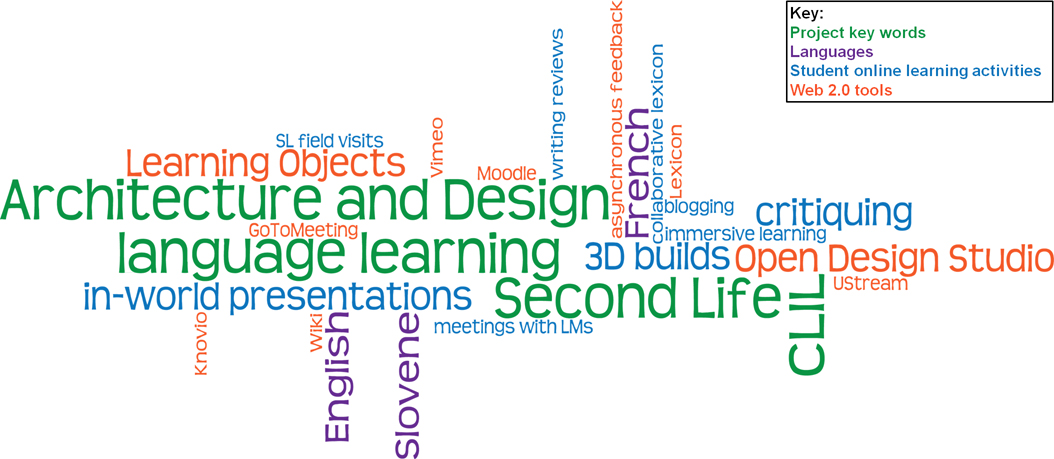 There was a dedicated ARCHI21 project website (this link is to the archived version).
One deliverable from the project is a set of interactive learning objects relating to the teaching and learning of Architecture and Design and additional languages. These learning objects are licensed under a Creative Commons Attribution-NonCommercial-NoDerivs Licence (CC BY-NC-ND) (users may link to any or all of the interactive items):
The project and its dedicated island are also featured on the Second Life Academic Showcase.